Who are we?
Established in 2005 as a small, family-run business out of our home in Dunshaughlin, Co. Meath, today, still operated largely from home, Trim The Tree has become known for our high-quality, fun, sentimental, yet affordable personalised Christmas Tree decorations. Trim The Tree epitomises the Christmas spirit, spreading love through hand-personalised gifts all over the world.
Never miss a milestone with Trim The Tree. Give a personalised ornament every year, for every milestone, and watch the collection grow for your family and friends. They will treasure these gifts forever. Watch the fantastic reaction when they open this special gift with their own hand printed names and see how it takes pride of place hanging on the Christmas tree. Every year thereafter your gift will be especially remembered as the box of Christmas decorations is taken down from the attic and it reminds them of a special time in their lives.
What we do
We believe that a personalised gift is one to treasure. Each decoration is designed to hang on a Christmas tree and is personalised by hand with your requested family names or messages – no matter how unusual, or in what language the name or message may be. Each one is then presented in a complimentary seasonal gift bag.
Our ornaments are made of a high-quality resin with high-gloss finishing that creates an elegant ceramic look. Each design varies in size, however on average our ornaments measure approximately 3.25" x 3.25" – the perfect size to hang on your Christmas tree.
With designs that range in size for families from 2-16 members in over 40 designs, and over 250 designs for all other occasions, we are sure you will find your perfect match. Our decorations make the perfect gift for family, friends, grandparents, baby's first Christmas, teachers or your work Kris-kindle.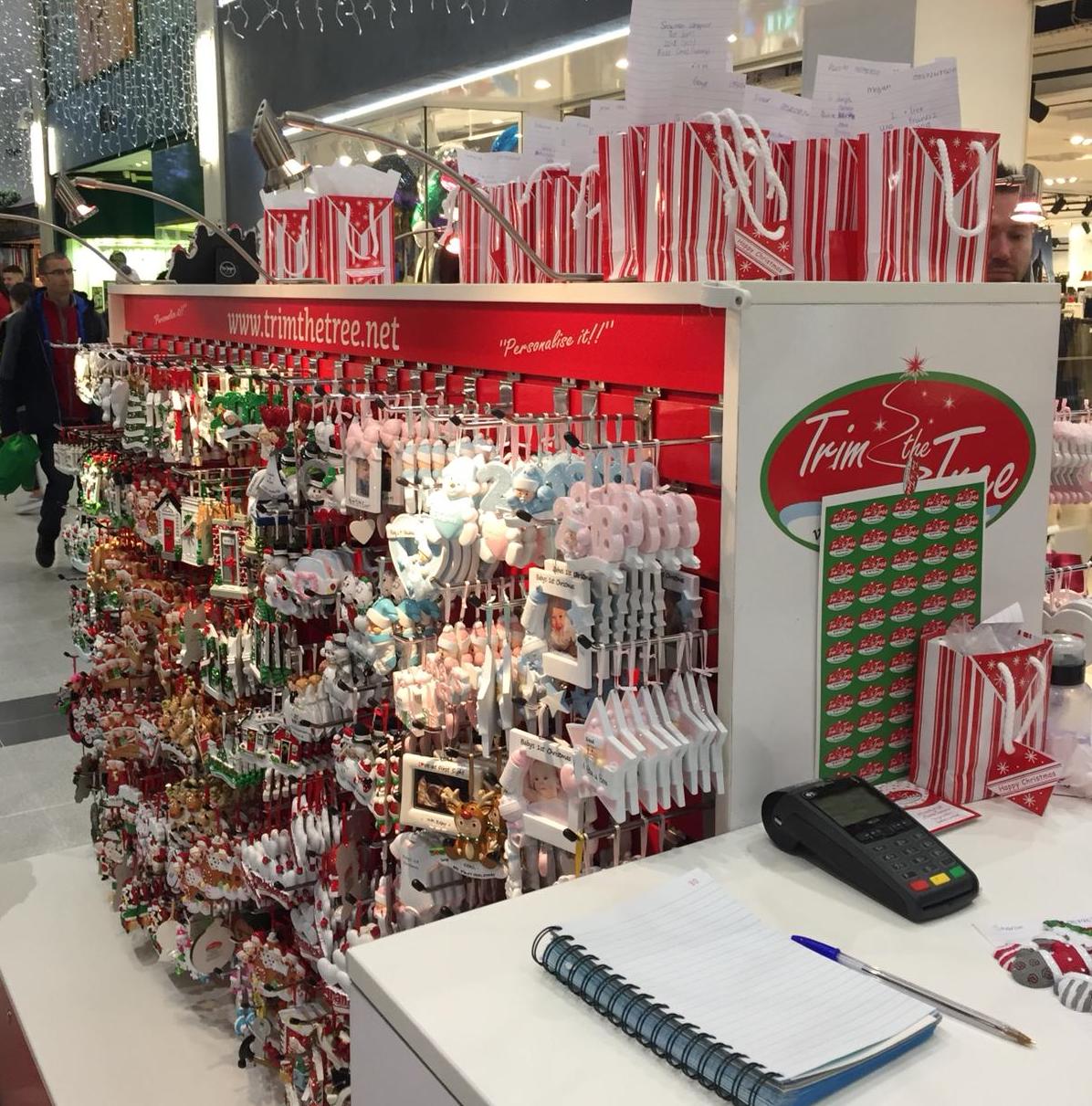 Jervis Street Shopping Centre (2018)
Start your very own family Christmas tradition - give a personalised Christmas decoration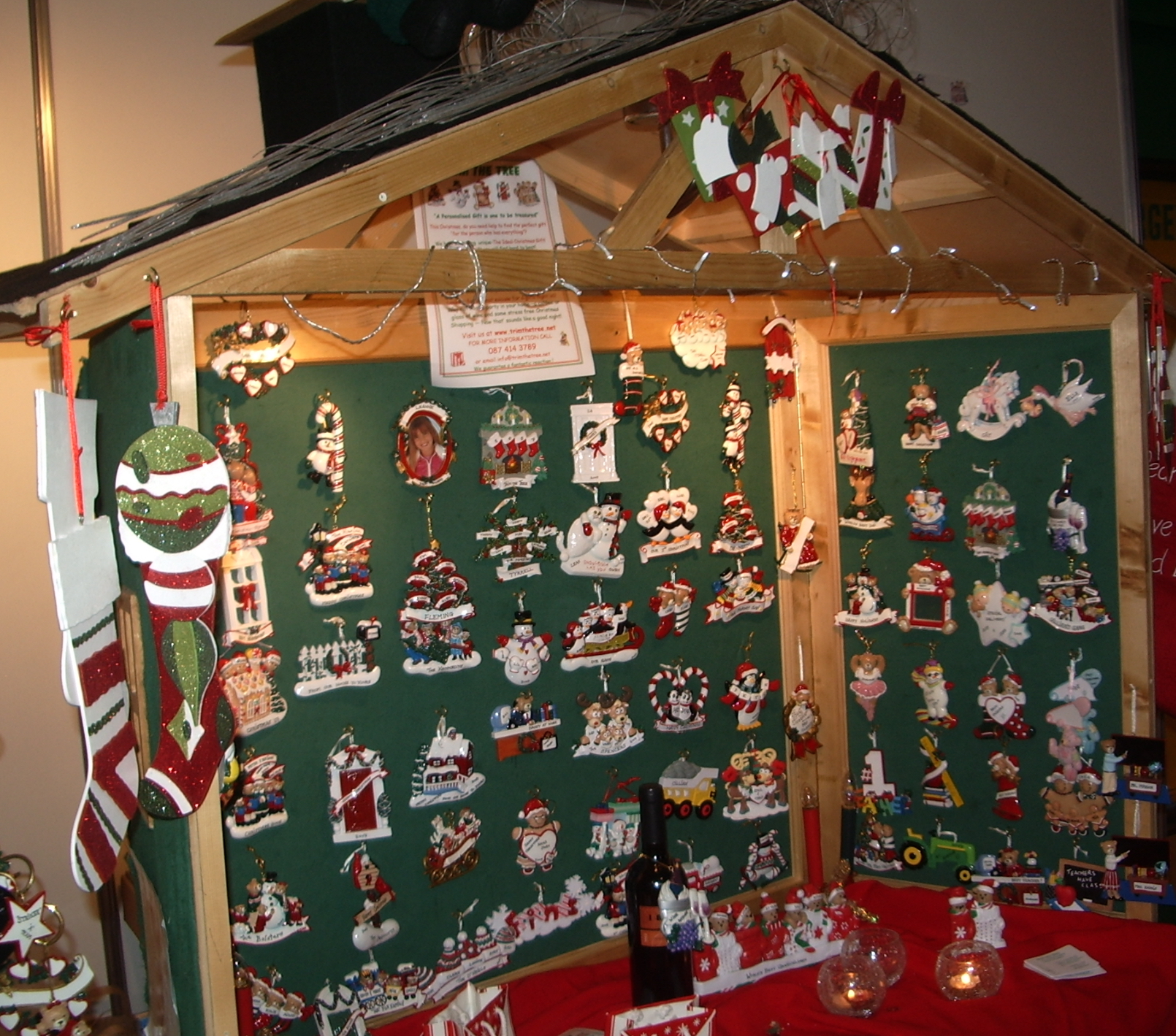 Where it all began (2005)
Our Story
---
Like many Irish in the 1980s, Claire and Andy crossed the Atlantic to experience a new life in New York City. Family always being an important part of both their lives, when Christmas came around, sending special gifts to loved ones at home was a tradition that they treasured. Personalised Christmas tree decorations became a signature gift of theirs and the tradition lasted many years after returning to Dunshaughlin, Co Meath from the United States when they made their annual trip to NYC.
Fast forward a number of years later to 2004, Claire made another trip to New York. This time, having stopped to buy some more of these gifts to take home, surprised that these special gifts had not yet become available in Ireland the light bulb switched on and the beginnings of Trim The Tree was born.
The following Christmas of 2005, a small collection of stock was shipped to Ireland from the US. Claire travelled around the country to small, local craft fairs and set up in peoples' homes for Christmas house parties. She soon discovered that the demand for a new type of token gift for the person who has everything was high here at home - and the rest, as they say, is history.
Since that first Christmas, Trim The Tree has become a well-known brand across the country for providing customers with high-quality, low-cost, sentimental gifts for family and friends. We set up pop-up shops in Ireland's biggest shopping malls and have a thriving business here online where we ship our hand-personalised ornaments (in any language) all over the world.
Being the first company to bring these decorations to Ireland, we take great pride in selling the best Personalised Christmas decorations around for everyone and every occasion.